1st May 2019
First show fer today were in Ballarat….at Mt Pleasant Kindergarten. Captain almost got lost finding his way after the renovations created a new n bigger space to play in. A new entrance too which is always fun to negotiate with treasure chest in hand ?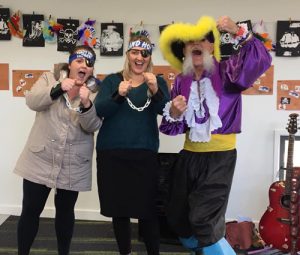 Second show today were way over past Geelong on the Bellarine Peninsular at Drysdale Preschool…a commute we are n will be doing heaps of times this week
Methinks you can tell how much fun we had by looking at this pic
We was so lucky to have Nannie and Annie…..so easy to remember their names even hours later ?