Note in the Captains Log January 21st 2001 :
Coffs Harbour Jetty Markets – Step two in Pirate Pete's see Australia
in 2001 or bust tour and Pirate Pete found hisself at the Jetty Markets.
Here's the shots from the day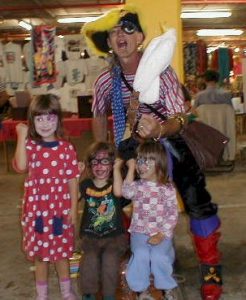 Ahoy there! me young shipmate, Adam (I trust me Poor
Pirate Memory hasn't let me down) and his Dad.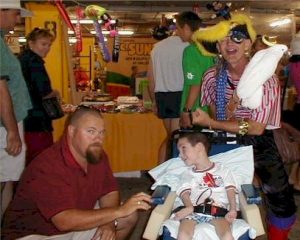 Ship's Cook, Goldie, reckons this young pirate loves his
Dad heaps by the look on 'is face.
Pirate Pete is inclined to agree but bein' a tough old pirate
he can't get away with saying mushy stuff like that.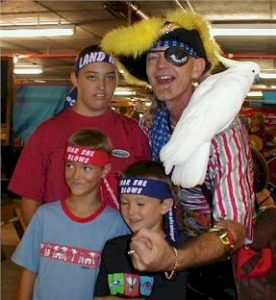 Now if yer ever wants someone to mind yer stall and sell lots of yer
stuff this lot would be bound to do a brilliant job.
We had to wait around for hours fer them to stop selling stuff
on their stall so we could get this little picture.
Well done me hearties!