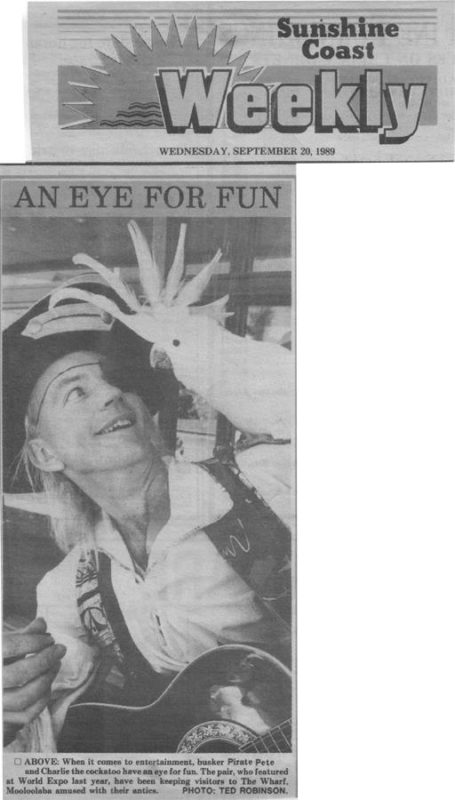 A collection of random favourites pics that has taken Pirate Pete 30 years to collect. Tap Photos to see the rest.
Pirate Pete celebrates 30 years of pirating on 16th September 2019.
After several years as a Fairy, The Captain sought hisself a more exciting lifestyle,
With the official opening of Underwater World (Now Sealife Sunshine Coast) the opportunity presented fer Pirate Pete to come out of his sea chest and carve out an existance as a full on Pirate.
First day out as minstrel roving around The Wharf and entrance to "Underwater World" resulted in front page pics on both media of the day….Newspapers Sunshine Coast Daily and Sunshine Coast Weekly suggesting there could be a future fer a Pirate with a cockatoo on his  shoulder.
From there The Captain entertained at Fairs Festivals and Community Events on the Sunshine Coast and Brisbane including a seven year stint of busking and roving entertainment at the  weekly North Pine Country Markets on Brisbane northern outskirts.
In May 1991 Pirate Pete entertained at the first of more than 450 private birthdays largely in Brisbane and Sunshine Coast.
After falling asleep too many times on the commute back from Brisbane to the Sunshine Coast and completing a more than 350 km loop plus four birthday parties fer the day which at that time were normal. He decided 300 km per day in the one direction were a better option.
Following a request to entertain at The Longreach Kindergarten Fete in 2001 flyers were sent to kindergartens between Longreach and Sunshine Coast and so began Pirate Pete's Life On The Road…..19 years later and  with a total of almost 5,000 Shows under his belt he is still there trying to figure out how to stop.